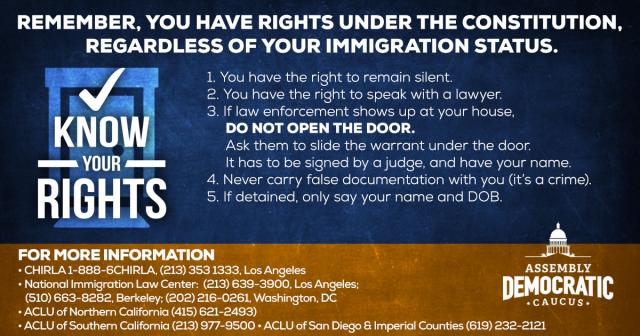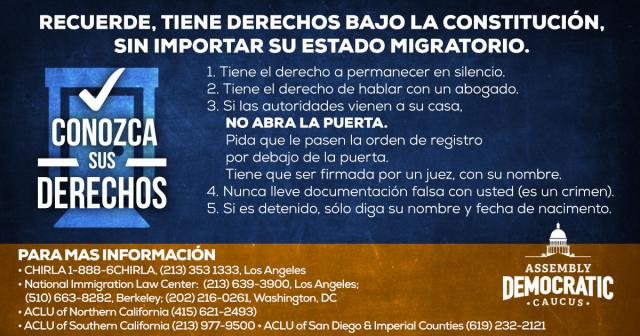 If Immigration Officials Appear At Your Home
You do not have to let the officials in your home unless the ICE agents present you with a warrant that specifically has your name on it and is signed by a judge.
Do not sign any documents.
When You Are Asked About Your Immigration Status
You have the right to remain silent. You do not have to answer questions regarding your birth place.
Show your immigration papers when asked by an agent. If you do not have this documentation, remain silent and ask to speak with your attorney or for a list of low-cost legal services.
Do not falsify documents or lie about your citizenship status.
If You Are Stopped In Your Car
Pull over to a safe location, turn off ignition and place both hands on the wheel.
Show your driver's license, registration, and proof of insurance.
Police may only search your car without your consent if they have reason to believe your car contains evidence of a crime.
Remember if you are asked to show immigration documentation, you do not need to answer questions regarding your place of birth.
*This information is not intended as legal advice.
General Questions?:
American Civil Liberties Union (ACLU)
Website: https://www.aclu.org/
Northern California: (415) 621-2493
Southern California: (213) 977-9500
San Diego & Imperial Counties: (619) 232-2121
Legal Aid Foundation of Los Angeles
Website: https://lafla.org/
(800) 399-4529
The Coalition for Humane Immigrant Rights of Los Angeles (CHIRLA)
Website: http://www.chirla.org/
1-888-6CHIRLA or (213) 353-1333
Student Resources:
Immigrant Legal Resource Center
Website: https://www.ilrc.org/
San Francisco: (415) 255-9499
California Immigrant Policy Center
Website: http://www.caimmigrant.org/
Los Angeles: (213) 250-0880
Sacramento: (916) 448-6762
Oakland: (510) 451-4882
Health Care Questions:
California Department of Health Care Services
Office of Legislative and Governmental Affairs
Website: http://www.dhcs.ca.gov
Medi-Cal Assistance: (916) 440-7500
Immigration Legal Resources by County:
Humboldt, Lassen, Shasta and Siskiyou
SEACM, A Ministry to Refugees and Immigrants
2315 Placer St. Redding, CA 96001
Website: http://seacmredding.org
Phone: (530) 241-5802
Sacramento
McGeorge School of Law – Community Legal Services
3200 5th Ave. Sacramento, CA 95817
Website: http://www.mcgeorge.edu
Phone: (916) 340-6080
San Joaquin
California Rural Legal Assistance (Stockton Office)
145 E. Weber Ave. Stockton, CA 95202
Website: http://www.crla.org
Phone: (209) 946-0605
Fresno
California Rural Legal Assistance (Fresno Office)
3747 E. Shields Ave. Fresno, CA 93726
Website: http://www.crla.org
Phone: (559) 441-8721
Toll-free:  1-800-242-2752
Central California Legal Services
2115 Kern St., Ste. 1, Fresno, CA 93721
Website:  http://www.centralcallegal.org
Phone: (559) 570-1200
Toll-free:  1-800-675-8001
Alameda
Centro Legal de La Raza
3400 E. 12th St. Oakland, CA 94601
Website: http://www.centrolegal.org
Email: info@centrolegal.org
Phone: (510) 437-1554
East Bay Community Law Center
2921 Adeline St. Berkeley, CA 94703
Website:  http://www.ebclc.org
Email: webinquiry@ebclc.org
Phone:  (510) 548-4040
San Francisco
AIDS Legal Referral Panel - Immigrant HIV Assistance Project
1663 Mission St., Ste. 500, San Francisco, CA 94103
Website: http://www.alrp.org
Phone:  (415) 701-1200, ext. 313
Los Angeles and Orange
Asian Americans Advancing Justice-LA
1145 Wilshire Blvd., 2nd Floor, Los Angeles, CA 90017
Website:  http://www.advancingjustice-la.org
Email: info@advancingjustice-la.org
Phone:  (213) 977-7500
Toll-free:  1-888-349-9695
Catholic Charities of Los Angeles - Esperanza Immigrant Rights Project
1530 James Wood Blvd. Los Angeles, CA 90015
Website:  http://esperanza-la.org
Phone: (213) 251-3505
Salvadoran American Leadership and Educational Fund (SALEF)
421 South Bixel St., Ste. A, Los Angeles, CA 90017
Website: http://www.salef.org/
Phone: 213-480-1052
Central American Resource Center (CARECEN)
Los Angeles: 2845 W. 7th St. Los Angeles, CA 90005
Day Labor Center: 1675 Wilshire Blvd., Los Angeles, CA 90017
San Fernando Valley: 16501 Sherman Way, Ste. 245, Van Nuys, CA 91406
Website: http://www.carecen-la.org/
Phone: (213) 385-7800, ext.136
Imperial and San Diego
Casa Cornelia Law Center
2760 5th Ave., Ste. 200, San Diego, CA 92103
Website: http://www.casacornelia.org
Email: lawcenter@casacornelia.org
Phone: (619) 231-7788
ABA Immigration Justice Project of San Diego
2727 Camino del Rio South, Ste. 223, San Diego, CA 92108
Website:  http://www.americanbar.org/ijp
Know Your RightsPhone: (619) 255-8810