#EndGunViolence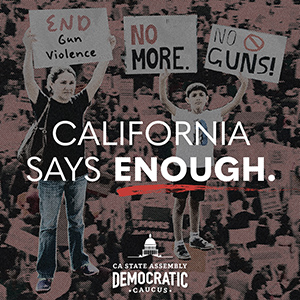 California is among the states with the lowest rate of gun violence. In the last decade, the Assembly has passed nearly 100 laws aimed at reducing gun violence and these efforts have kept us consistently below the national average in terms of gun deaths.
California currently experiences 8.5 gun deaths per 100,000 residents, which is less than one third of the rate found in Mississippi, the state of the highest rate of gun deaths.
Although California has a comparatively lower rate of gun violence, we can do better.
Some of my bills on preventing gun violence have included:
AB 1089 (2023): Gun Manufacturing: This bill seeks to ban the sale, purchase, possession, and receiving of ghost gun technology by limiting the use of 3D printers and computerized numerical control milling machines only to those who are state-licensed firearm manufacturers.
AB 1621 (2022): Limiting Ghost Guns: This bill increases public safety by further restricting "ghost guns" and the parts and kits used to build them, while protecting the rights of legal gun owners in California.
AB 879 (2019): Ghost Guns: seeks require a state background check for individuals seeking to purchase firearm frames and receivers by requiring the Department of Justice to electronically approve the purchase or transfer of firearm parts through a vendor.
AB 7 (2017): Open Carry: Closes an existing loophole that allows for the open-carry of long guns in unincorporated areas of a county.
AB 736 (2017): Dealer Licensing: allow for a framework of fines that the Department of Justice can impose on a gun dealer instead of the current choice of doing nothing or license revocation and prosecution.
AB 2382 (2017): Ghost Guns: creates a new license structure for firearm parts dealers and requires anyone who purchases a firearm part to undergo a background check before purchase. Existing firearms dealers and licensed ammunition vendors will be exempt from the new license requirement.
The Assembly has passed a package of gun violence prevention bills that make it harder to flood communities with weapons and will help keep illegal guns out of the hands of those most likely to commit violence. Among them are:
AB 1594: Allows survivors of gun violence to file a civil action for damages against a gun manufacturer, importer or dealer;
AB 2571: Prohibits marketing or advertising of firearms to minors;
AB 2156: Reduces the amount of firearms that can be made without a license in a year, from 50 to three;
AB 1769: Partners with Ventura County prohibit gun shows at the Ventura County Fairground;
AB 2552: Will increase oversight of gun shows;
AB 2239: Creates a 10-year firearm prohibition for people convicted of child abuse and violent elder and dependent adult abuse; and
AB 1929: Requires the Department of Health Care Services to establish in Medi-Cal a violence prevention and recovery program